Host4ASP.NET Review – Why Host4ASP.NET Is Popular Among ASP.NET Developers?
Why Host4ASP.NET Is Popular Among ASP.NET Developers?
As one of the most affordable web hosts, Host4ASP.NET offers reliable ASP.NET hosting. The 24×7 professional customer supports is to ensure websites running well. They're always responsive and effective via live chat and email. However, many customers are wondering whether it is cost effective and suitable for small businesses. Actually, based on its friendly budget, 99.9% uptime guarantee, ease of use, outstanding features, excellent performance and first class customer supports, we highly recommend it for ASP.NET developers to build small to large sized business websites.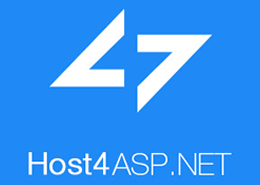 Price
They offer 3 plans named as Basic, Advance and Business. The price of each plan is $ 6.95/mo, $ 9.95/mo and 18.95/mo regularly. But now, they will give you discount 58% for their entire hosting plan. So you just pay $2.95/mo for Basic plan, $5.95/mo for Advance plan and $14.95/mo for Business plan. They also provide 30 days money back guarantee to ensure customers put their money in safe hands.
Uptime and Speed
Host4ASP.NET owns top-level US Data Center in Chicago. Their servers specification are 100% DELL Servers, 300 Gbit/s connectivity with high redundant capacity and the most important is 24×7 monitoring and server maintenance, safety locks,  and automated backup. According to our monitoring, Host4ASP.NET reaches at least 99.99% uptime. In addition, they utilize SSD to ensure the hosted websites run rapidly.
Latest ASP.NET Version
ASP.NET version is very important for ASP.NET developers, because they always need the latest technology of ASP.NET. Therefore, Host4ASP.NET of course always gives you the latest ASP.NET version. You can easily work with the latest ASP.NET version, and if you have any problem, you can contact their professional ASP.NET team support.
Features
Host4ASP.NET is the best rich-featured shared web host that they support nearly all the latest cutting-edge technology with their fantastic web hosting plan. As the reliable company, you won't be worried about their service and hidden cost.
Basic

$2.95/mo

Advance

$5.95/mo

Business

$14.95/mo

Disk Space

1GB

10GB

Unlimited

Number of Site

1

6

Unlimited

Domain Pointers Per Site

Unlimited

Unlimited

Unlimited

Subdomains

Unlimited

Unlimited

Unlimited

Bandwidth

50GB

Unlimited

Unlimited

Windows server 2012

Yes

Yes

Yes

IIS 8

Yes

Yes

Yes

Full Trust Allowed

Yes

Yes

Yes

Isolated Application Pool

Yes

Yes

Yes

MSSQL 2012

Yes

Yes

Yes

Remote Access to MSSQL/ MYSQL DBs

Yes

Yes

Yes

MYSQL5

Yes

Yes

Yes

Email Boxes

10

30

Unlimited

SMTP / POP3 / IMAP

Yes

Yes

Yes

Webmail Access

Yes

Yes

Yes

Email Group

10

30

Unlimited
Conclusion: Host4ASP.NET Is Popular Among ASP.NET Developers
Host4ASP.NET is popular among ASP.NET developers because they offer a creditable shared hosting plans  If you want to build a new professional website or plan to transfer your website to a new host, we highly recommend Host4ASP.NET for its outstanding server uptime and speed. Going with Host4ASP.NET, you are able to enjoy world-class services backed by 24×7 technical support, 100% customer satisfaction, the 30 days money back. So, why not get an account with Host4ASP.NET and start to try now? Their reliable ASP.NET hosting is starting from $2.95%/mo  only!
To read more about Host4ASP.NET, visit http:// host4asp.net/