When you go to global Configuration window, you notice 5 essential settings tab. The "System" tab is the second tab.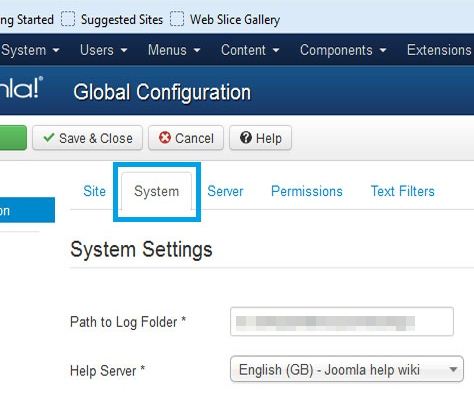 In the System tab there have four kinds of settings and they are System Settings, debug Settings, Cache Settings, Sessions Settings. during this tutorial we are going to show how to configure System settings using the System tab in the global configuration window.
Path to Log Folder : the path where the logs folder should be stored. when you install Joomla on your own pc or own server the Joomla installer should automatically fill this field and don't need to change it.
Help Server : you'll choose the name of the help server from that your system can collect the help screen after you click the help button. you discover a help button in several screens in the admin control panel.
When you click help button it uses a Joomla's main help site by default. The default option is better and don't need to change it.
After change any kinds of settings you need to click ( save ) or ( save & close ) button from the upper left corner for saving changes.

Choose the Best Web Hosting
HostForLIFEASP.NET is recognized as one of the Best, Cheap Web Hosting Provider in UK. You can always start from their start from €3.00/month and this plan has supported Moodle, OpenCart, WordPress, Joomla, Drupal, Umbraco, etc with one-click installer, within less than 5 minutes. They provide cheap, best and instant activation on your Joomla Hosting hosting account with UNLIMITED Bandwidth, Diskspace and Domain.
They hired an army of the very best technicians, managers and web hosting gurus. That means clear, professional support, fast. Their team are standing by to respond to your queries around the clock, big or small, and they'll be there for you – 24×7, 365 days a year. You can contact them via all standard communication channels – by e-mail, through the ticketing system, or via an online form – should you have any pre-sales questions.
Their top priority to deliver the ultimate customer experience, and they strongly believe that you'll love their service – so much so that if for any reason you're unhappy in your first 30 days as a customer, you're more than welcome to request your money back. They have just one request – that you let them know why you're unhappy so they can address the problem for their other customers and make their service even better.