Windows Hosting Comparison: HostForLIFEASP.NET vs Blacknight – The two companies are Windows ASP.NET hosting providers, both ranked in the Best ASP.NET Hosting in Europe. And the following post will carry out a comparison between their ASP.NET hosting, via which people will see their differences better.
Windows Hosting Comparison: HostForLIFEASP.NET vs Blacknight
HostForLIFEASP.NET
HostForLIFEASP.NET is the best UK Windows & ASP.NET Hosting provider that offers the most affordable world class Windows hosting solutions for their customers. They provide shared, reseller, cloud, and dedicated web hosting. HostForLIFEASP.NET is the best UK Windows Hosting provider that offers the most affordable world class windows hosting solutions for their customers. They provide shared, reseller, cloud, and dedicated web hosting. They currently operate servers in four prestiguous cities in the world, namely: Amsterdam (NL), London (UK), Washington, D.C. (US), Paris (France), Frankfurt (Germany), Chennai (India), Milan (Italy), Toronto (Canada) and São Paulo (Brazil).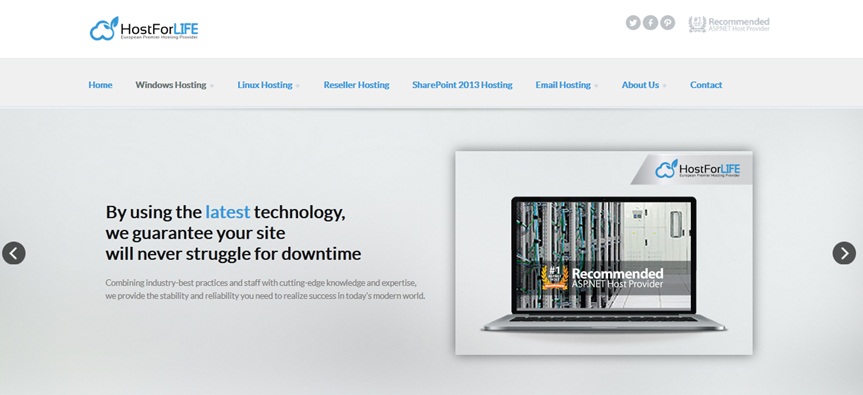 Using industry-standard web environments with the latest stable technologies like Server 2012, Internet Information Services 8, SQL 2012, ASP.NET 3.5 SP1, ASP.NET 4, ASP.NET 4.5.1, ASP.NET 4.5.2 and ASP.NET 5. Using powerful Dell servers that are beefy enough to service the requirements of their customers. Their servers use 64 bit software, are dual quad-core, have at least 16 GB RAM, and have RAID 10 disk arrays. They don't skimp on their servers because HostForLIFEASP.NET believe you deserve better.
They hired an army of the very best technicians, managers and web hosting gurus. That means clear, professional support, fast. Their team are standing by to respond to your queries around the clock, big or small, and they'll be there for you – 24×7, 365 days a year. You can contact them via all standard communication channels by e-mail, through the ticketing system, or via an online form – should you have any pre-sales questions.
Blacknight
Blacknight is a 100% Irish owned and based in Ireland, ICANN accredited domain registrar and hosting company. Recipients of several awards for their revolutionary use of social media, Blacknight are one of Europe's most cutting edge Internet companies. Blacknight constantly seek to lead the way by introducing innovative solutions for its client base and provide dedicated servers and colocation as well as a comprehensive range of Microsoft Windows and Linux based hosting plans and domain name registration services to business globally. Blacknight Internet Solutions Ltd (Blacknight) specialises in serving the hosting and co-location needs of business, both large and small.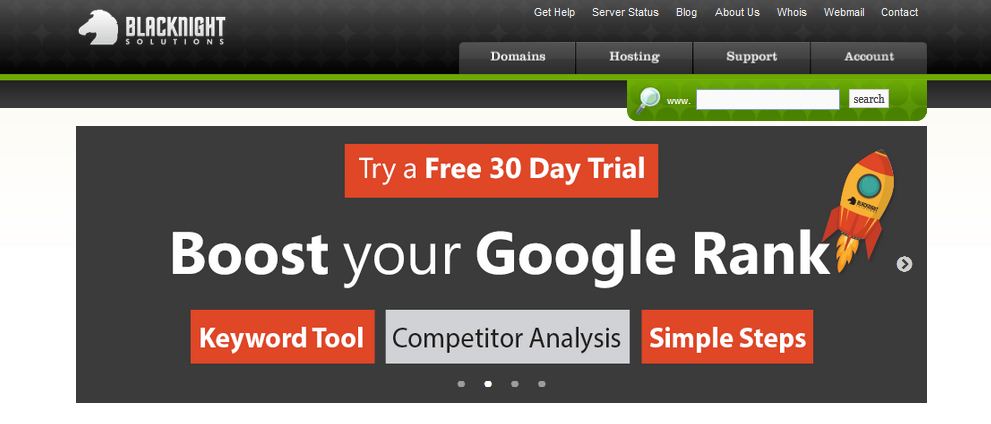 By partnering with innovative companies, like Parallels, Realex and Comodo, Blacknight Solutions is able to bring 'best of breed' technologies to the Irish and European markets, while maintaining an aggressive pricing model.
After collecting their real customer reviews all over the world, we made an overall comparison as below:
HostForLIFEASP.NET vs Blacknight on Windows Hosting Features
On shared Windows hosting solution, HostForLIFEASP.NET and Blacknight both design multiple plans for people with different hosting needs. And their ASP.NET hosting solutions are both feature-rich in the industry.
As for detailed ASP.NET features, HostForLIFEASP.NET offers Windows server 2012/2008, supported by IIS 8/7 and MSSQL 2014/2012/2008/2008R2. In addition, HostForLIFEASP.NET hosting plans contain multiple ASP.NET versions, ASP.NET MVC 4/5/6, Classic ASP, ASP.NET AJAX, and the latest PHP version, PHP 5.6.13. What's more, customers will gain Unlimited disk space, Unlimited monthly bandwidth, Unlimited FTP users and 200 MB email space at least to start their websites.
Compared to HostForLIFEASP.NET, Blacknight makes use of Windows Server 2008 and MSSQL 2008, IIS 7 to host websites. What's more, 10GB web space, 200GB bandwidth, MySQL 5.0, PostgreSQL, FTP and email boxes are included in all Blacknight shared ASP.NET hosting plans.
Hosting Uptime Comparison
As both of the 2 companies claim to guarantee at least 99.9% uptime and fast page loading speed averages less than 1 second, we have carried out a performance testing for almost 6 months to test their reliability and speed in the real world. Note that the 2 tested websites are newly-launched ones, coming with the same content and script. According to the result, only HostForLIFEASP.NET has fully kept its promise to achieve an almost 100% uptime.
Price Comparison
As compared with many other web hosting solutions available on the web, both HostForLIFEASP.NET and Blacknight offer affordable Windows ASP.NET hosting service with beneficial discount. If we have to pick the cheaper one, HostForLIFEASP.NET wins little over Blacknight.Check the detailed price in the following picture: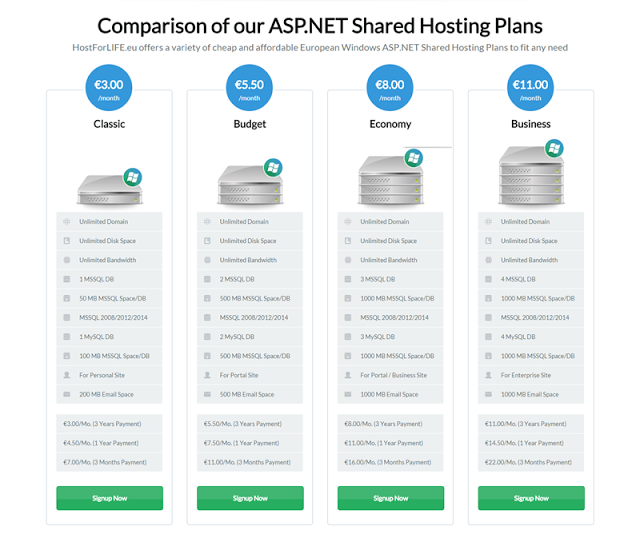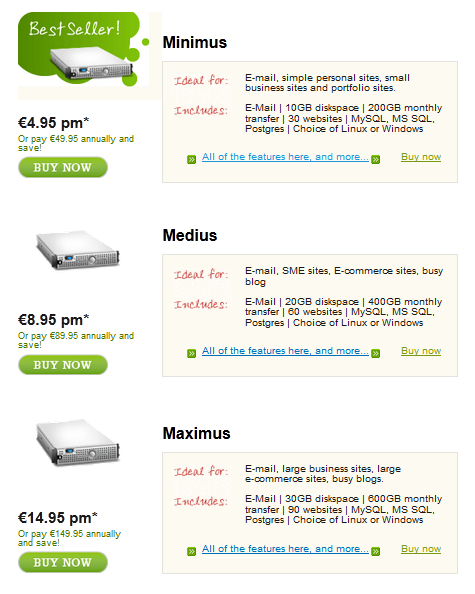 Both of the 2 web hosts provide the money back guarantee to ensure risk-free and worry-free purchase.
Windows Hosting Review on Customer Support
It is much easier to ask for help at HostForLIFE than Blacknight. And the answer response time is faster at HostForLIFE as well. People can start a live chat with HostForLIFE or send a ticket via Helpdesk Support portal at any time when they have questions. Or they can send email to support team that will be answered quickly too. In addition, the Knowledgebase is informative enough for people to find out what they want.However, Blacknight just opens its Support portal for people around the clock, but it needs to control panel login credentials of customers. Beyond that, Blacknight knowledgebase and forum are good places for the self-help.
Why HostForLIFEASP.NET ?
After comparing their hosting features, pricing, performance and technical support, it is clear that both companies offer quality ASP.NET hosting services in Europe, but HostForLIFEASP.NET hosting is better on price value. Customers just need spend Є 3.00 for each month and if they have any question, they will easier get technical support. For more HostForLIFEASP.NET information, please visit http://hostforlife.eu